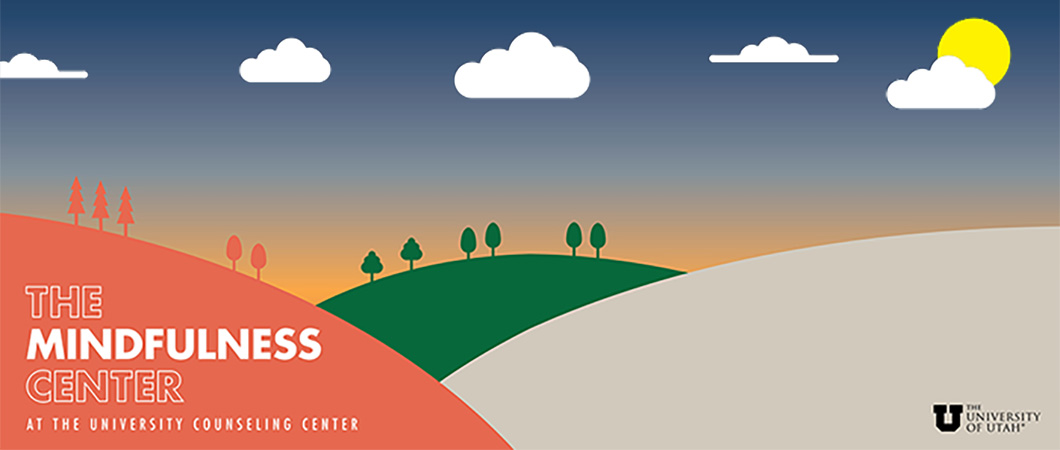 UPDATE: AS OF MONDAY, MARCH 16th, The Mindfulness Center IS NOT PROVIDING IN-PERSON SERVICES to support the mental health needs of our campus community while mitigating COVID-19 risks in our department. Therefore, relaxation chairs are not available for use.
WHAT YOU CAN EXPECT NOW

Stay tuned for more information and check out our social media updates (Instagram, Facebook, Twitter).
DROP-IN MINDFULNESS SESSIONS
Drop-in for a FREE facilitated 30-minute meditation session starting August 24, 2020
Mondays @ 12:30 PM
Tuesdays @ 12:30 PM
Wednesdays @ 3:30 PM
Thursdays @ 3:30 PM
Fridays @ 12:30 PM
NO registration required, just join our zoom meeting. Participants can attend as many times as they like so long as they are a student, faculty, or staff of the U. See our drop-in mindfulness flyer for information for how to join.
Drop-in meditation sessions are led by a rotating group of facilitators who are staff of the University Counseling Center. Sessions are not conducted during semester breaks or university holidays.
MENTAL COACHING For SUCCEss
For Neurodiverse Students
Tuesdays, September 8 – September 29, 5:30 PM -7 PM.
Registration Available August 25.
This FREE workshop for undergraduate and graduate students is designed to help students gain practical skills to help with planning, organization, time management, focus, and avoiding procrastination. This workshop meets for 4 weeks, and it is highly recommended that participants start at module one, if possible. However, participants can join at any time and may repeat the series, as desired. Students do not need to be University Counseling Center clients to attend this workshop. For more information, please contact LNan@sa.utah.edu. All participants must register online to attend. See our Mental Coaching to Succeed flyer for information.
MINDFUL WORK/LIFE BALANCE
Fridays, September 11 – October 2, 11 AM.
Registration Available August 28.
This FREE 4-week workshop is offered by zoom meeting (invitation provided after registration) for U faculty, staff, and graduate students. The workshop is designed to introduce participants to mindful strategies for balancing work-life stress. Come learn effective coping tools for navigating the responsibilities of different life roles as well as techniques for managing stress and anxiety. All participants must register online to attend. See our Mindful Work/Life balance flyer for more information.
Feel Better Now:
Learning how to Cope with Anxiety & Depression (FREE)
This is a FREE 4-week workshop is offered by zoom meeting (invitation provided after registration). It is for U students, staff, and faculty.
The series schedule is as follows, excluding holidays and breaks. Series registration windows are provided.
Series 1:Thursdays from

4PM – 5 PM, 8/27 -9/17 Registration available 8/13
Series 2:Tuesdays from 1 PM – 2 PM, 9/1 - 9/22 Registration available 8/18
Series 3:Fridaysfrom 1 PM – 2 PM, 9/4 - 9/25 Registration available 8/21
Series 4:Wednesdays from

4PM – 5 PM, 9/9 - 9/30 Registration available 8/26
Series 5:Mondays from 1 PM – 2 PM, 9/14 - 10/5 Registration available 8/31
Unless otherwise specified, this workshop series includes a set of 4 modules that are covered over the course of 4 weeks. We recommend that participants start attending the workshop at module 1, but the modules may be attended in any order, and may be repeated. Participants will learn a variety of effective and practical skills they can use to cope with stress, anxiety, and depression as well as the distress of these challenging times. See our Feel Better Now overview for more information about the content and the dates/times of each workshop. All participants must register online to attend.